Bringing architecture to everyone – it is our mission to provide products and services which allow everybody to have access to architecture. Architecture is not just for the wealthy, it is not just grand buildings and one-off mansions, it is the homes we all live in, our investments for the future. We believe that the profession should be accessible to all, at affordable prices, therefore it is our mission to design a range of products and services focusing on enhancing the practical knowledge of new or inexperienced architects and anyone who wants to understand and learn the process of architecture to improve their own homes no matter the budget.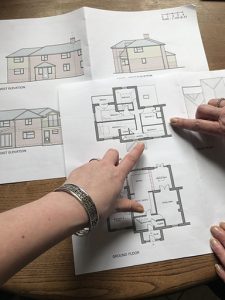 If you are planning a home extension, you can't afford NOT to enrol on one of our short courses. Get  the benefit of having a Chartered Architect walk you through the whole process step by step at a fraction of the cost of employing an Architect.
I'm Charlotte Knott of CK Architecture. I studied at the University of Liverpool, gaining my BA (Hons) degree, before studying at Birmingham City University, where I gained my M.Arch part time whilst working in practice. During my M.Arch I took a module whereby I was tutoring the 2nd year BA student, and I absolutely loved this experience. I later gained my PgDip from Birmingham City University in 2015, allowing me to register with the ARB as a fully qualified architect. I have been interested in architecture from a young age, and was taken to many National Trust properties throughout my childhood, but I never really believed I could be an architect until I gained some work experience at a local practice at the age of 22. Nothing in school or college was like architecture, so nothing really prepared me for studying the subject. Whilst studying for my BA I developed a great interest in sustainable architecture, and the use of natural materials to help the environment and to aid the health and wellbeing of a building's occupants. I studied biophilic design throughout my masters course, and I have recently successfully undertaken the Certified PassivHaus Designer course. So some of the teaching within Architects Articulate will focus on these subjects.
I was made redundant from my position at a local architects practice in the summer of 2018, and despite not feeling ready I decided to set up my own practice as a sole practitioner. This was an incredibly scary and stressful decision, but one that I absolutely wouldn't change now. From my career to date I have gained a wealth of experience that I encourage you to draw from, as I would love to help you navigate your way through your studies, or your early career as an architect.