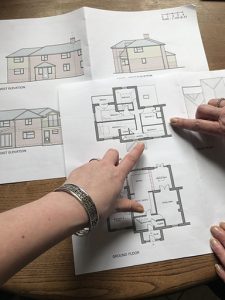 In 6 Simple Steps is a course designed to allow you, a homeowner, to realise the home of your dreams by helping you design the extension you desire.
We will listen to your needs, and openly and honestly communicate with you; we will take into account everything you require from your extension and help you turn that dream into a design which allows you to live the life you want, and which also responds to planning policy and other regulations.
Listen to Charlotte explaining how you will benefit from this fantastic course.
This course consists of 6 modules. Each module takes 2 weeks – the first week of each module includes a presentation which teaches you what that module covers, & the supporting content to help you work through what you've learnt during that module. During the second week of each module there will be a live implementation session held within the Facebook group where you can ask us anything you need to help you progress with your project.
Module 1 – Setting the brief
Module 2 - Measuring your existing property
Module 3 - Producing your as existing drawings
Module 4 – Space planning
Module 5 – Designing your extension
Module 6 – Planning & Permitted development rights
Please see our FAQ's for more details on each module. Click Here
Payment Plan
£100
Per Month